Right now, even as you read this, your skin is thinning and losing elasticity… the amount of youth-giving oxygen to your brain is diminishing… your arteries are hardening… your tissues are drying out and withering faster than your biological age… and NO amount of creams, masks and peels can stop the process.
Right now, even as you read this, your skin is thinning and losing elasticity… the amount of youth-giving oxygen to their brain is diminishing… their arteries are hardening… their tissues are drying out and withering faster than their biological age… and NO amount of creams, masks and peels can stop the process.
And this process will continue day after day, month after month, year after year… unless you know the exact techniques of how to slow aging to a crawl.
We're about to let you in on a secret that plastic surgeons and skin care manufacturers don't want you to know — Whether or not you have had plastic surgery… chemical peels… or are using fillers… the trauma you have experienced during your life is still held in your face. As you age, you must release the trauma in order to maintain your younger look.
Thousands of years ago, in the 6th century, BC, the sages of ancient China had already found the solution to this age-old problem. They already knew how to restore circulation to the head and brain, how to release long-held tensions and how to refresh and nourish the tissues, keeping the skin smooth and glowing … and the face and body fresh and youthful.
These restorative beauty secrets and techniques slowed stress-based aging to a crawl and were reserved for the highest of royalty — the Empresses and first ladies of China. The techniques were so closely guarded, they were only taught to select members of certain healing professions.
Alas, these deeply-guarded secrets were long lost… until now.
Now, they are available to you (updated for the 21st century) … and your clients need them today more than ever!
Your Face Reflects Your Body
There is no denying that the constant stresses and strains of living in the fast-paced 21st century show up in your face as tension and premature aging. The truth is, every wrinkle is connected to an internal organ or an emotion, which is reflected in your health and appearance:
Poor digestion? Your tissues will not be taut and firm; your skin will have a yellow cast


Not breathing deeply? You will have dry skin with a pale, white-grey color


Angry? Your skin will have a greenish tinge, and your jaw will be tight
The ancient Chinese knew that our faces mirror what's happening in our bodies. They knew that the underlying trauma of your life is held in the face: Accidents and injuries, emotional wounds, bereavement, life trauma, dental trauma, birth trauma, and health challenges all show up in your face directly affecting the radiance and luminosity of your face and skin.
In fact, the accumulation of years of stress, tension, trauma and even scar tissue - the same daily stressors that age and wither the tissues of the face - also affect the inner organs of the body.
That's because nerves and energy meridians connect your face with much deeper areas inside your body. When these energy meridians get blocked, not only does your health and energy become compromised, but your face starts to show the ravages of time, pressure and stress.
Once these traumas get unlocked, the years can drop away. Wouldn't it be wonderful to be able to start to release the accumulation of years of stress, tension and trauma by using a unique system that combines facial acupressure with biodynamic cranio sacral therapy? To reconnect with oneself, relax the overworked mind, body and face, and get back in touch with one's own authentic self in just a few easy minutes a day?
Who's Behind the Lange-Muller Method?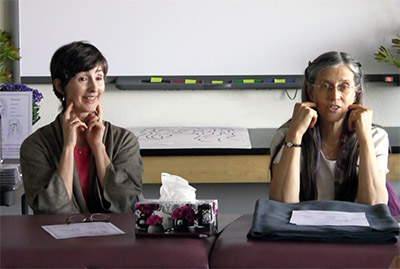 Dr. Susan Lange, OMD, L.Ac. and Mary Louise Muller, M.Ed, RCST came together to create a surprisingly simple-to-follow system, "Rejuvenate My Face" which clients love! It is also easy and very relaxing to do as a practitioner.
Their decades of experience teaching Chinese Medicine and Biodynamic Cranio Sacral Therapy, combined with the latest research, have evolved into an elegant and finely-honed method of working directly and efficiently with the face.
They draw not only from the wisdom of the ancient Chinese sages and modern biodynamic cranio sacral therapists, but also from the latest research on brain science and the social engagement system, facial and cranial health, including facial and head trauma, bonding and attachment issues, and even autism.
Their Lange-Muller Method of Natural Facial Rejuvenation has been hailed by experts as revolutionary, because it is such a unique blend of oriental medicine and biodynamic cranio sacral therapy. This form of transformational face-lift massage is a blend of the best of traditional and modern healing touch.
The acupressure work is rooted deep in Chinese tradition and was taught to Dr Susan Lange, OMD, L.Ac by her first acupuncture teacher, Dr. Frances Wong, in Hong Kong in the early 1970's. It's blended with skillful gentle touch that comes from the biodynamic craniosacral tradition to transform the face, the body and its structural balance.
The first biodynamic craniosacral trainings in the US began when Mary Louise and Christopher Muller brought Franklyn Sills over from Europe to teach in 1992. The Mullers have been active in the development of the biodynamic cranio sacral model since that time.
The Secret Behind The Secret
The Lange-Muller Method of Natural Facial Rejuvenation is so extraordinary because Lange and Muller not only re-discovered the secrets of the ancient Chinese sages, but they have discovered the "secret" behind the secret. You see, the sages knew that certain techniques unblocked meridians, released tensions and stress, and brought nourishment to the facial tissues. What they didn't know was what the exact mechanisms and the secret nutrients were.
Lange and Muller have discovered that one of most important secret nutrients is Oxytocin. Oxytocin is a powerful hormone that is often called the "feel good hormone." It acts as a neurotransmitter in the brain, provides stress relief and is a natural antidepressant. It gives humans the ability to empathize, trust, and even love one another. It has the ability to alleviate anxiety and produce feelings of trust and security (and even arousal in the right situations). It is also anti-inflammatory and can be used to heal wounds.
Lange and Muller have put their research, knowledge and decades of experience into their Home Study course, "Natural Facial Rejuvenation - 5 Minutes to a Younger Face:"