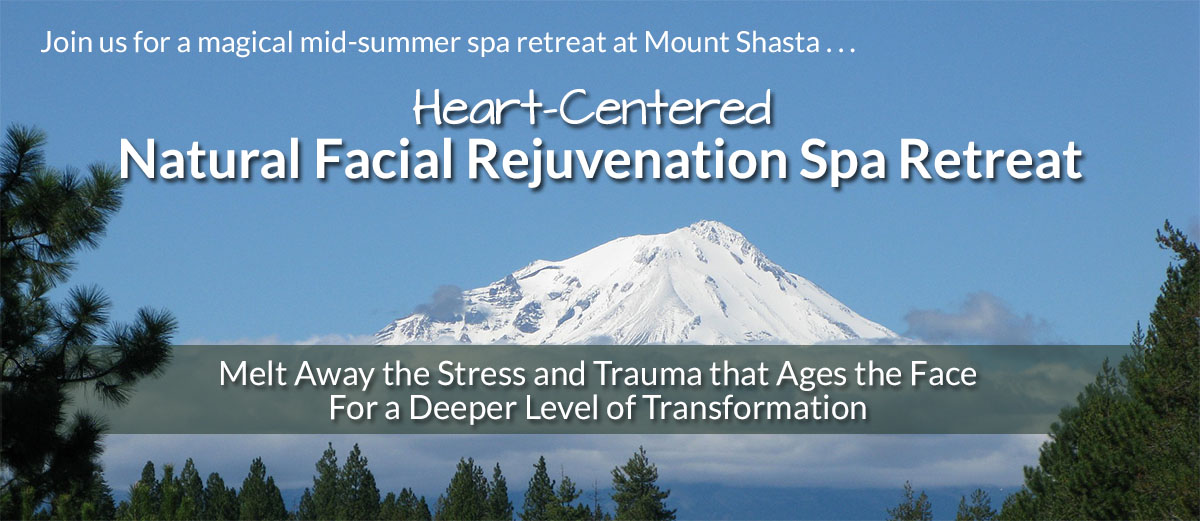 Perfect for Craniosacral Practitioners, Massage Therapists, Bodyworkers, Acupuncturists,
Estheticians, Nurses and Somatic Trauma Healing Workers
Learn Our Unique
Facial Rejuvenation System With
Natural Face-Lift Massage…
in Just Six Days While Enjoying Peace and Tranquility!
Melt muscle tension and old trauma patterns in the face (and body) with this unique blend of acupressure and facial rejuvenation techniques, bringing softness and balance to the face, lifting the whole being… and life energies
---
Sorry, the summer, 2017 live workshop is over.
If you missed our live training, all is not lost! To be put on the early notification list for the next live training, please enter your info below:





Get our Natural Facial Rejuvenation Home Study Program, Level 1 by clicking one of the links below:


And keep checking back for our live training!

---
This is an opportunity to . . .
Take a break far away from your busy life and rest and rejuvenate in a peaceful and nurturing environment
Learn skills that are deeply transformative (and gain CEU Units)
Relax and rest while you learn our unique blend of acupressure and biodynamic craniosacral skills as we go deeply into Natural Facial Rejuvenation — Levels 1 and 2 of The Lange Muller Method
Work with the face in ways that support wholeness, muscle structure, lymph, chi flow, fascia, connective tissue and skin
Melt stress, trauma and muscle tensions held in the face, neck, head and even the brain that may be keeping you limited and stressed out. This can come from dental work, head injuries, car accidents, eye surgeries, birth trauma patterns and more
Share and commune with likeminded heart-centered practitioners to replenish your own wellspring of energy
This transformational Face-Lift Massage is a blend of the best of traditional and modern healing touch. The acupressure work (Laser Touch) is rooted deep in Chinese Medicine tradition and was taught to Dr Susan Lange, OMD, L.Ac by her first acupuncture teacher, Dr. Frances Wong, in Hong Kong in the early 1970's.
We blend this with skillful gentle "Listening Touch" that comes from biodynamic craniosacral roots to lovingly transform the face, the body and its structural balance. We also integrate the ground-breaking work of Dr. Stephen Porges, researcher and professor of psychiatry, whose principles of neuroscience encourage restorative processes and deep relaxation.
Discover and take home with you the radiant inner self that is revealed through loving connection with your face.
Learn how to transform your clients, in the high healing energies under the umbrella of Mount Shasta.
Soak in the mineral springs, take walks through the forest, enjoy the organic food and commit to 6 blissful days for your own self-nurturing and regeneration.
Take a peaceful vacation for you, away from the busy-ness of the holiday week-end, away from WI-fi and technology, and rest… deeply held and nurtured by the sacred land and healing waters of Stewart Mineral Springs, Mount Shasta.

One of the goals of this Transformational Natural Facial Rejuvenation Retreat is to teach you how to create a sense of inner peace and safety – for yourself and for your clients. Because unfortunately, the truth is . . .
Trauma anywhere in the body or the psyche gets recorded and held in the face.
We cannot hide it even with Botox and surgical facelifts!
Until you unlock the underlying trauma that is held, even etched
in the face, it cannot release from the body.
The good news is, once the body feels a sense of safety, the heart opens and the Shen starts to shine through and uplift the face.
The Shen is described as the spirit of the heart, in Chinese medicine.
This unique natural rejuvenation method focuses on the deeper important issues of inner and outer connection and a sense of safety so there is a profound and lasting transformation not just in the face but throughout the whole body and the whole nervous system.
We draw on the principles of Biodynamic Craniosacral Therapy, ancient Chinese medicine and the research and development of the Polyvagal Theory by neuroscientist Dr. Stephen Porges.
This synergy has led to surprisingly rapid and radiant results even as we relax deeply and slowly into the healing rhythms of the "field" and the sacred land around us.
Bottom line: if you don't have a deep sense of safety and a deep listening connection, your heart can't open and the Shen cannot rise up and illuminate your face — no matter how great your technique.
"It was fabulous. It was really, really wonderful! All the pain went out of my body.
All the tension just went out of my body (as I was giving the session).
I feel like I almost got more out of giving a session than getting one done."
– Elizabeth, as the practitioner

"It opened my heart. I'm just feeling so happy. My heart has opened up. And my eyes are softer.
When I looked in the mirror, I was like 'OMG, look at you!'"
– Sally, Occupational therapist
"I feel wonderful. When I came here, I was very tired and just sort of out of sorts, and after the first day I felt rejuvenated. Coming home I felt lifted, my spirit was lifted. And today, as in the very first day, I really touched on some early birth memories for me.
Having someone hold my head in such a supportive way is meeting something for me that I didn't get on my very first day in this world, so its really been quite an experience.
Thank you, it's very precious."
– Judy, Massage Practitioner

No other method integrates these three powerful modalities — Acupressure Laser Touch from Chinese Medicine, Listening Touch (from biodynamic craniosacral roots), and the ground-breaking work of Dr. Stephen Porges. The result transforms the face, the body and its structural balance in a way that cannot be achieved any other way.
Discover how to melt muscle tension and old trauma patterns in the face (and body). Bring softness and balance to the face and lift the whole being… and life energies with this unique blend of acupressure and facial rejuvenation techniques!
Level I — June 27-28, 2017
In this class you will learn information and skills that help you and your clients to:
Improve elasticity and tone in the skin, connective tissue and muscular layers of the face
Enhance circulation of lymph, blood and chi
Restore expressivity, joy and youthfulness to the face
Bring relaxation to the whole body through contacting the social engagement nervous system
Read and transform underlying underlying traumas, stagnations, weaknesses and imbalances reflected in the face, the yin and the yang.
Evaluate your face for before and after assessment — Bring a mirror to witness the immediate effects of this technique!
We will be teaching Self-Help skills as well as session work—this is highly experiential.
Level II — June 28 – July 3, 2017
Increase acupressure contacts and the in-depth understanding for more powerful effect
Complete the Dr. Wong acupressure face-lift sequence for an easy daily routine you can teach your clients
Deepen exploration of fascial and muscular relationships of the face and neck for tighter, firmer skin
Deepen understanding of the "breathing" face, tissues and bony relationships
Deepen understanding of the five element personality and face shapes and their importance in assessing underlying issues. You will learn an overview of Chinese Face Reading for this
Learn tools to specifically work with releasing the tensions, traumas and weaknesses that create wrinkles, lines, flab and sagging
Explore complex issues and trauma that affect and are affected by face-lift massage, i.e. dental work, cosmetic surgery, environmental exposure and emotions
BONUSES!
Valuable Interviews with the Experts:
BONUS 1:
Latest Pearls from Giovanni Maciocia, the Chinese Medicine expert
"The Nature of SHEN" and the "Spirit of the Heart" – Giovanni Maciocia, world-renowned Chinese Medicine Scholar and Educator, is interviewed in a fun and lively discussion by Susan Lange, OMD, L.Ac.
In our Natural Facial Rejuvenation Program we explore the importance of Shen and how it shows up and illuminates the face. In this interview you will discover why the Shen, the Spirit of the Heart, is so relevant to what you will learn on this Heart Centered Spa Retreat.
A must for all Acupuncturists and those interested in Chinese medicine, to evaluate health. ($99 Value)

BONUS 2:
The Meaning of the "Mid-line"
Renowned Acupuncturist, Giovanni Maciocia shares more clinical pearls of wisdom in this video interview by Susan Lange, OMD:
The latest information on two powerful meridians and special points that you will access in this Retreat
Fascinating discussion on the origins and meaning of the "Mid-line" from the Chinese Medicine perspective of particular interest to body workers and biodynamic cranio sacral practitioners, as well as Acupuncturists and osteopaths
Key "Laser" points to activate the dynamism of the mid-line
How to illuminate the face with the Shen, the spirit of the heart
Valuable and instantly useful information that even Susan was not aware of.
($49 Value)
BONUS 3:
The Neuroscience Behind the Trigeminal Nerve
What you always wanted to know about Facial Pain, Nervous System Balancing and the Trigeminal Nerve
See Mary Louise Muller's coveted PowerPoint Presentation slides from her talks at the recent Biodynamic Cranial Sacral Conference!
Bodyworkers and craniosacral therapists know that understanding the pain pathways of the head and face can help them better support their clients, especially those with headaches or facial pain. Its also tremendously helpful for pain after dental work, or any kind of trauma or injury to the face, head or neck.
The trigeminal nerve is one of the 5 key cranial nerves in Dr. Porges' Social Engagement Nervous System and Polyvagal Theory. Facilitating the Trigeminal nerve helps to balance and calm the entire nervous system.
Part 1: The neural anatomy of the Trigeminal nerve
Part 2: The step-by-step protocol to giving a biodynamic craniosacral session to help resolve energy stagnation and trauma around this nerve
($99 Value)
BONUS 4: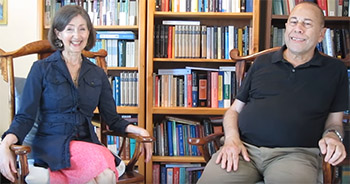 Window of Heaven Spirit Points
Window of Heaven Spirit Points: The Anatomy of Neuro-Facial Regulation
Another revelatory pearl from Giovanni Maciocia about the true meaning of this unique set of Acupuncture points that we will cover in the Retreat.
These points balance:
Heaven and earth
Mind and body
Yin and yang
…and bring harmony into the body and face

We've discovered that these ancient points support the balancing of the autonomic nervous system and access some of the key cranial nerves mentioned in the Polyvagal theory of neuroscientist Dr. Stephen Porges.
A true blend of Chinese medicine, biodynamic cranio-sacral therapy and neuroscience!
($49 Value)
BONUS 5: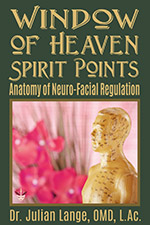 Window of Heaven Spirit Points:
The Anatomy of Neuro-Facial Regulation
A quick-reference primer compiled especially for you by Dr. Julian Lange, OMD, L.Ac.

BONUS 6:
Fabulous Rejuvenation Power Points Wall Chart
A handy reference chart you can post on your wall to help you find the right points every time. If you followed Annie in our Level 1 Home Study Course, you will love to hang this super-charged chart on your wall demonstrating the "Full Frances," Dr Frances Wong's Protocol. ($39 Value)
FINAL BONUS: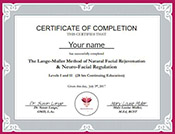 A Beautiful Certificate of Completion
This is yours once you've completed the Retreat Program at Mount Shasta to publicly acknowledge the time and effort you have invested into the training and successfully acquired the skills of The Lange-Muller Method of Natural Facial Rejuvenation & Neuro-Facial Regulation.
And we have other "Surprise and Delight" Goodies for you to use when you're back home or at work to help you remember and continue to use what you learn in the Retreat. (Priceless)
28 Continuing Education Hours Available
Acupuncture Continuing Education Hours pending: 28 hours total, 7 hours for Level I, 21 hours for Level II (California Acupuncture Board and NCCAOM)
Nursing Continuing Education Hours available for all classes. Provider approved by the Cal. Board of Registered Nursing, Provider Number 12248 for 28 hours total, 7 contact hours Level I, 21 contact hours Level II.
LifeShapes is approved by the National Certification Board for Therapeutic Massage and Bodywork (NCBTMB) as a continuing education Approved Provider. 28 hours total, 7 hours for Level I class, 21 hours for level II.
Event Details
Dates: Arrival Tuesday afternoon, June 27th, 2017 – Departure Monday morning, July 3rd, 2017 28 CEUs
---
Workshop Dates and Location:
Dates: The 6 day Natural Facial Rejuvenation retreat will take place from June 27 to July 3, 2017. The program begins Tuesday, June 27 at 5pm and finishes Monday, July 3 at noon.
We will meet on Tuesday evening and finish on Monday at noon. Stewart Mineral Springs has generously agreed to allow those who wish, to stay extra nights before departing for home.
Location: The workshop will be held at Stewart Mineral Springs, Golden Eagle Retreat Center, Weed, California.
The retreat is known for its combination of beauty, peace, and tranquility.
Mount Shasta: We're honored and excited because this mystical place will be in perfect alignment with the deep spirit of heart-centered renewal we offer to our participants in our live classes.
Sequestered in the Mt. Shasta foothills, Stewart Mineral Springs offers a unique environment of sacred mineral waters and pristine land tucked in a secluded forest canyon yet minutes away from Mt. Shasta and the Pacific Crest Trail.
We are already filling up, so be sure to contact us as soon as you can if you'd like to join us.
There will be time in the schedule to go to the spa and relax and regenerate in nature. To get a sense of this extraordinary location click here: www.stewartmineralsprings.com.
This special event is designed to be especially nourishing and deeply regenerating.
Presenters:
Mary Louise Muller, M.Ed., RCST, RPP,
is a gifted biodynamic craniosacral therapist in private practice in Murrieta, CA. She is an internationally recognized teacher, author and expert in craniosacral and the field of stress reduction. Mary Louise has been active in the healing arts for over 35 years. She is course director for
LifeShapes Institute
and co-developer of
Natural Facial Rejuvenation — The Lange-Muller Method,
which she has been co-teaching with Susan Lange since 2008.
Susan Lange O.M.D., L.Ac., is an Acupuncturist and Doctor of Oriental Medicine, as well as a biodynamic craniosacral therapist, based in Santa Monica, CA. Trained in Hong Kong and Europe, she has been teaching natural face-lift massage since the early 1980's. She is also Core Energetics therapist (a form of body psychology) and brings an in-depth knowledge of the 5 element character types to the Face Lift massage work.
Susan trained with and assisted Ray Castellino in his Pre-natal and Birth Trauma Practitioner Training, and leads her own "Birth Dance" Trauma Healing Retreats in Southern California. She has been in private practice and teaching the principles of Chinese Medicine for over 30 years. Along with her husband Julian Lange, O.M.D., L.Ac, she opened one of the first and finest non-toxic holistic healing centers in Santa Monica in 1990.

"There's a big difference now in how I feel and even look. My eyes feel better.
Everything feels better.
I just feel more relaxed . . . I can see better."
– Gloria

"Thank you for the spectacular sessions. The human body, I believe, was made to feel this way, but dealing with all the pollutants in today's world, it becomes increasingly more difficult to remain at "core." You and your team showed us how to achieve it, even amid chaos. Again, thank you."
– Helma
Levels I & II – $1497 Full Tuition
Call us for further information:
Mary Louise Muller: 951-677-0652 — regarding tuition
Rowena Duncan: 530-228-1883 — regarding accommodations and logistics
Space is VERY LIMITED at this spa and Natural Healing Retreat Center. Only a few spots are left. If you are thinking of coming, don't wait. Book now or all the rooms will be taken! Please note that the Stewart Mineral Springs Golden Eagle Retreat center is a separate cost with organic meals. Contact us directly for more information and for room reservations.
Q: Can I get a refund if I can't make it?
A. Full tuition is required upon application. If an accepted applicant is unable to attend, all but $150 is refundable up to 6 weeks before the course. After that time, all payments are non-refundable. If an applicant is not accepted, the full deposit is returned.

Call us:
Mary Louise Muller: 951-677-0652 — regarding tuition
Rowena Duncan: 530-228-1883 — regarding accommodations and logistics
The separate room rate includes 3 meals a day with delicious organically grown food, Tuesday June 27 evening to Monday lunch July 3. There will be organic vegetarian and vegan menus, and organic meat options. It is a separate charge from tuition.
We are so looking forward to "Meeting you on the Mountain" for our Magical Mid-Summer Spa Retreat!
Mount Shasta is connected to nearby Shastina, its highest satellite cone. From afar, they dominate the northern California landscape. Mr. Shasta rises abruptly and stands nearly 10,000 ft (3,000 m) above the surrounding terrain. On a clear winter day, snowy Mount Shasta can be seen from the floor of the central valley 140 miles (230 km) to the south. The mountain has attracted the attention of poets, authors, and presidents. Wildflowers and wildlife abound. (source: Wikipedia)
It feels something like a flower, when it opens up. That's what my face feels like (after receiving Natural Facial Rejuvenation). I have a big dent in my forehead (from a concussion and head injury in 1974) and it always feels creepy — but it doesn't feel creepy any more. Something is very different about it. It usually feels like I'm holding tightly where the tissue was injured and it never completely healed, but something relaxed during the treatment.
To experience (the work) ourselves (as profesionals) is really exciting, and that's what happened for me today.
– Victoria B, CranioSacral Practitioner

"I can't believe how easy and relaxing it was…"
– Gwen M, Massage Therapist

If you miss this chance, you may have to wait a long time before the training is offered again. Register today and reserve your spot. Just fill out the form below the videos.
Don't delay – spaces are filling up fast.
If you are interested in this Retreat, contact us right away for more details by filling out this form:
Or call us:
Mary Louise Muller: 951-677-0652 — regarding tuition
Rowena Duncan: 530-228-1883 — regarding accommodation
---
Dr. Emoto's Visit to Stewart Springs
In 2009, the eminent Dr. Masaro Emoto visited Stewart Springs with a small group of colleagues. We learned that one of his senior Hado students was aware of the powers of the waters and suggested a visit… One of the Hado teachers took a sample of water directly from the creek near the Source House. That particular location is especially unusual as it is where the red springs (female), white springs (male) and fresh water flow together. The springs in Glastonbury, UK have similar properties. Those who are especially sensitive say they feel the higher vibration of the water in that area. The water sample was taken back to Japan where it was crystallized. Its photograph is above.
Refund Policy:
Full tuition is required upon application. If an accepted applicant is unable to attend, all but $150 is refundable up to 6 weeks before the course. After that time, all payments are non-refundable. If an applicant is not accepted, the full deposit is returned.
Disclaimer:
Every effort has been made to accurately represent our program and its potential. Please be aware that this program is not intended to achieve the same results as any surgical procedure or facelift. That is not the goal of this program. The results of natural facial rejuvenation are largely subjective. Natural Facial Rejuvenation is not meant to be a substitute for medical care.
None of the statements on this site have been evaluated by the Food and Drug Administration. The information provided on our website is not intended nor is implied to be a substitute for professional medical advice or to diagnose or treat or prevent any disease. Always see your doctor for medical conditions.
Facial Rejuvenation Los Angeles, 506 Santa Monica Blvd., Ste 227 – Santa Monica, CA 90401 Phone: 310 395-9525